When God Wrecks Your Plans
In my daily reading, I came across this Proverb:
"Trust in the Lord with all thine heart; and lean not unto thine own understanding. In all thy ways acknowledge him, and he shall direct thy paths."Proverbs 3:5-6 King James Version (KJV)
2020. What a year already, am I right? In just 7 months, we've experienced war scares, a global pandemic, race wars and riots, even murder hornets. It has all flooded our lives without notice. It has changed the way we do school and work. It has changed the way we interact with others and canceled many plans.
We are most certainly living in a time of uncertainty.
We hear of uncertainty all the time. Uncertainty is the state of not being completely confident, or sure of something. Uncertainty can also sometimes bring along his little friend: anxiety. Anxiety is an emotion made up of feelings of tension, worried thoughts, and physical changes like increased blood pressure.
Quite often, anxiety can rush into our lives making us think we have to be something, do something, or have something before a certain timeframe. When things do not go according to plan, we often tend to worry. 
In today's age, there is so much pressure to go to college, get a degree, a good job, get married, and buy a nice house with a big backyard and a dog. While none of these things are bad, we really have to ask ourselves "What does God want for me?" If you are going to live for God, He is by no means required to adhere to your timeframe or your plans. And that's not always the easiest lesson to learn.
When I was in high school, I had almost my entire life planned out. I had already planned the college I would go to, and later, where I would attend graduate school. Afterward, I had plans to work as a veterinarian for 5-10 years then later open my own clinic. Now, that was a pretty good plan if I do say so myself. What I didn't account for is that I would meet Jesus and He would wreck my plans…in a good way.
The only part of my plans that ended up happening was my undergraduate at the school I wanted to attend. Now, I'm living a life that I would have never expected to live. God is using me in a ministry that I would have never seen myself in under my 10-year plan.
In reality, my timing didn't match what God wanted for me. That's why He completely switched up my plans. He saw something in me that I didn't see in myself. He had plans written for me that I did not have written down for myself. God's timing is not our timing, and God's plans will not always be our plans. Jeremiah 29:11 (NIV) states " For I know the plans I have for you," declares the LORD, "plans to prosper you and not to harm you, plans to give you hope and a future." When we submit to God's perfect will, we will never be let down. Yes, we will definitely go through struggles, but I believe that when we really want what God wants for us, our desire will then match His.
I think about the disciples. They dropped everything they had to follow Jesus. I'm sure that Simon and Andrew had plans to become successful in the fishing trade, but they were compelled by a God that knew far more than they ever could. When they chose to follow Jesus, they gave Him their plans, not knowing what their future would hold.
Proverbs 16:3 (ESV) says "Commit to the LORD whatever you do, and he will establish your plans."
This does not mean that He has to adhere to what we want. God is God and when we really let Him have his way and use us for His glory, he may shake those plans up a little.
Whether we believe it or not, Jesus has us right where He wants us. We are not where we are by accident. The things we go through in life are for our benefit, for our growth, and to make us into the people that He wants us to be. We will never get to Heaven and say "I really wish I would have decided to follow my plans instead of Gods" We may be living a life that we had never planned on living, but when we've dropped everything to follow Jesus, it becomes worth it.
I hope that the words of Proverbs 3:5-6, will challenge us to lean not on our own understanding but to learn to trust God, no matter where He takes us in life.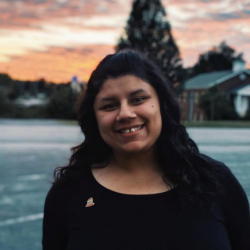 Kiana Gilchrist is from Anderson, South Carolina at attends Sanctuary of Praise. She has been writing since she could form words together. Writing has been a way to collect her thoughts and escape from the troubles of life. She enjoys writing articles and essays on various topics. She currently has a blog where she shares articles about whatever comes to her heart, and about my experience in the Mission field. She is in the process of publishing a book of poetry.
Interested in Writing for Insideout Magazine?