Four Things I have Learned From T.F Tenney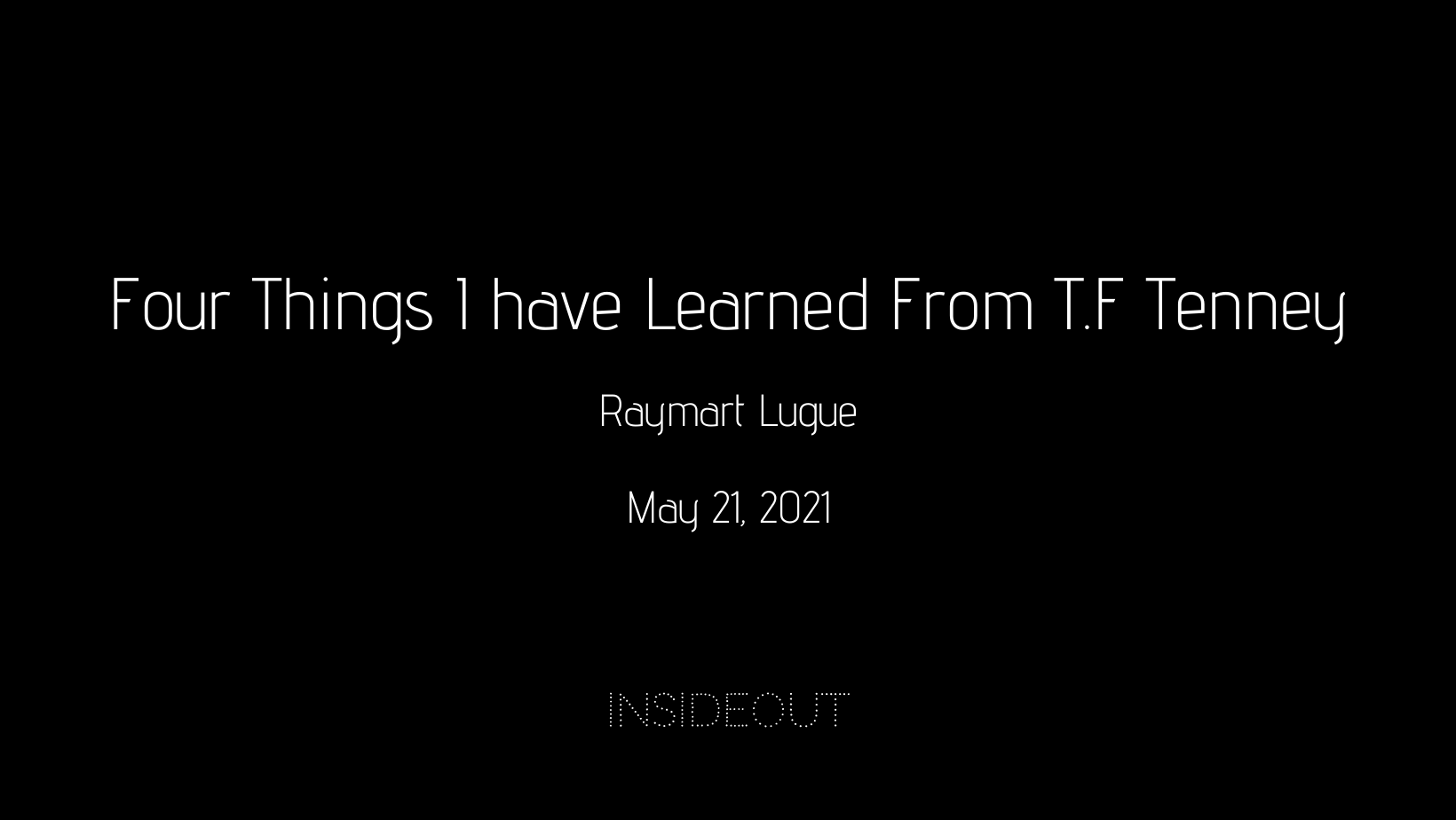 It has been 2 years since the loss of a great man of God – Tom Fred Tenney. He died on Friday June 1, 2018 at the age of 84. 
It is undeniable that his life created a lasting impact on the life of many, especially in the United Pentecostal Church International. Bro. Tenney was a minister for more than sixty-five years. He served as our General Youth President, Global Missions Director, Louisiana's District Superintendent, and an honorary member of the General Board. 
Four Valuable Lessons
​
Bro. Tenney had a tremendous impact on my life. Let me share with you four things I learned from him. Some of these are one-liners we would usually hear him say. 
1. "The simple truth about spiritual warfare is that most of the battles we try to fight with our tongues are better fought on our knees." – TF Tenney
We love to strategize and edge God out to get what we want or to eradicate things that seem so unnecessary in our life. However, in the end, God doesn't change the circumstances until the circumstances change us. The Lord is more interested in changing us than in giving us what we want. He wants us to learn how to trust not in our abilities but in the power and authority of the Almighty God. The word of the Lord unto Zerubbabel is true: "'Not by might, nor by power, but by my spirit' saith the LORD of hosts" (Zechariah 4:6). When we fight with our tongue, we depend on ourselves but when we fight on our knees, we depend on the One who sits on the throne.
There is activity in the spiritual realm in everything that happens on earth. Therefore, in order for us to win the battles we fight in life, we ought to fight not in the physical but in the spiritual. Though we walk in the flesh, we war do not war after the flesh. The weapons of our warfare are not carnal but "mighty through God to the pulling down of strong holds; Casting down imaginations, and every high thing that exalteth itself against the knowledge of God, and bringing into captivity every thought to the obedience of Christ" (II Corinthians 10:3-5). 
Oh, what power we have through prayer! One of our favorite hymns even say, "Oh, what peace we often forfeit. Oh, what needless pain we bear. All because we do not carry everything to God in prayer!"
2. "It is interesting to note that man is the only creature God ever made whose head swells when you pat him on the back." – TF Tenney
We are the children of the Creator and, therefore, we are designed to excel in things that we do especially for the Kingdom of God. Because of the accomplishments that God allows us to have, it is inevitable to get some pats on the back. Sadly, many people fail to manage such moments. The test, sometimes, is not how we get from here to victory but how do we manage ourselves when we finally get it. Bro. Tenney put it this way: "Many ministers fall into a mismanaged triumph – those who didn't triumph victory over victory."
Pride is the worst of all evil because it existed even before there was a devil. It is an ancient sin that caused Lucifer's fall: 
Thine heart was lifted up because of thy beauty, thou hast corrupted thy wisdom by reason of thy brightness: I will cast thee to the ground (Ezekiel 28:17a).
There is nothing wrong about having beauty, wisdom, and brightness. The problem starts when our hearts are "lifted up" because of these things. The proper response to whatever we achieve, therefore, is to give the glory to whom it is due – the Creator. Besides, "A man can receive nothing, except it be given him from heaven" (John 3:27).
3.  "God never alters the robe of calling to fit the man; He alters the man to fit the robe." – TF Tenney
The call of God is always greater than the one He calls. It is normal to feel like what God wants us to do is too big for us. God-given dreams and visions are always God-sized. If we think that we can do something on our own, then what we are trying to accomplish is not heavenly. 
When Isaiah saw the glory of God and His kingdom, he said, "Woe is me! for I am undone; because I am a man of unclean lips, and I dwell in the midst of a people of unclean lips: for mine eyes have seen the King, the LORD of hosts" (Isaiah 6:5). Did God change anything about His glory and what He wanted to do? No. He sent seraphims to touch the lips of the prophet. He changed Him to fit the robe of calling the He wanted Isaiah to wear. 
Don't think that God will alter the magnitude of what He wants to accomplish in the world just to fit our inadequacies. What He wants us to do is to be on board with Him. He wants us to trust in Him for we need a big God to see God-sized dreams come to pass. He wants us to be an earthen vessel that contains the power and spiritual authority needed to turn the world upside down. Paul clearly stated the reason: "But we have this treasure in earthen vessels, that the excellency of the power may be of God, and not of us" (II Corinthians 4:7). 
4. "The anointing you respect is the anointing you receive." – TF Tenney
We do not know any great man or woman of God who didn't go through a "submission test." Samuel learned how to submit Eli whose family wasn't respecting the temple of God. David learned how to submit to Saul who tried to kill him several times. John the Baptist, no matter how powerful his ministry was, submitted himself to the ministry of Christ and said "He must increase but I must decrease" (John 3:30).
Submission is essential because it determines whether God can entrust His anointing to us or not. If a person cannot submit to someone whom he can see, how can he trust and submit to Someone whom he cannot see? Besides, God's work is never according to our reasons and expectations. If we do not learn how to submit now, there is no way that we can survive the ministry in the future.
A person can never qualify to have spiritual authority until he learns how to submit to authorities. And it is dangerous to do the work of the ministry without spiritual authority. We do not give credit to the devil, but it is important to take note that hell knows whose authority we are working under and whether or not we possess a spiritual authority over them. 
Warren Wiersbe observed, "If a river is allowed to overflow its banks, the area around it becomes a swamp. But if that river is damned and controlled, it becomes a source of power." If we want to have a powerful ministry, we need to have a powerful character. Learn now how to submit!
Raymart was born and raised in Manila, Philippines. As a third-generation apostolic believer, his exposure to the things of God developed a burning desire to be involved in the ministry. Three years ago, his desire moved him to Canada to become an international Bible college student at Northeast Christian College. He is a licensed minister with the Atlantic District of UPCI, the section 2 youth representative of the district, youth pastor of Ripples United Pentecostal Church, and a graduate school student at Urshan Graduate School of Theology pursuing Master of Arts in Christian Ministries (Intercultural Studies).