Flappy Bird Can Help You Change the World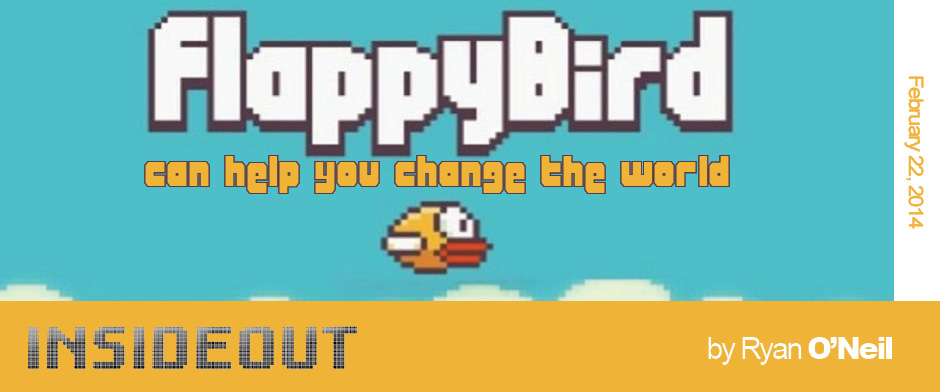 Flappy Bird done went crazy! The game has taken the world by storm. Hospitals are being filled with thumb injuries, and the youngest case of carpal tunnel is officially in the Guinness Book of World Records. Just kidding. But, alas, on the day of this writing, the creator of Flappy Bird, Dong Nguyen, has decided to take down the game due to the overwhelming demand and stress it put on him. This article could continue and illustrate how when one finally makes it to perceived success, it might not be what they actually wanted. But what you're reading will be going in a different direction. Flappy Bird is incredible evidence that programming—even of a simple game—can make an impact on millions of lives. In the view of this writer, the Apostolic movement needs more teenagers to become programming gurus.
How does the church have anything to do with programming? It doesn't have much to do with it, at least not through a game app. But there are other ways. Any time you log onto a website that has to do with information about the Bible or the Apostolic movement, it was a programmer who helped make that happen. Have you ever used a Bible app on your smartphone? A coder built that. Now, more than ever, billions of people have access to a computer, and in turn, to the truth of the gospel. Here are just a few ways you'll be able to help in the Kingdom once you become a programmer.
Witnessing
Right now, a minister in North America holds weekly online services with people in countries on the other side of the world. These countries don't allow their citizens the freedom of religion. It's basically a video chat, but they have music, Bible studies, and revival. And it's all online. It might be over a Wi-Fi connection, but people are receiving the Holy Ghost and speaking in other tongues over the Internet. People from restricted religions, who would literally be murdered for converting, finally have the chance to hear about a Savior who died on the cross. When you become a programmer, you'll be able to help people in desperate situations who have no other way of being reached.
Money For Jesus
A twenty year-old "code monkey" who knows the right programming languages can make over $100,000/year. That's $10,000 with which you'll be able to help your church in tithes alone. What's that sound? Oh, yeah. It's the fingers of dozens of Real McCoys typing codeacademy.com in their browsers to start learning programming. (Meet these Real McCoys at sheavesforchrist.com/the-real-mccoy-contest/)
Remote Working
Want to know a great way to be used in the Kingdom? Work at your home church. Genius, right? Here's the deal: programmers make decent money while having a huge number of opportunities to work from home (or wherever they happen to be). There are programmers who travel the world sightseeing. But every day, they get up, do their coding for the day, then go to the Taj Mahal or Victoria Falls. You can do this and be helping a church. You don't have to be a pastor to help start a North American Missions church. Whenever God calls you to a place to help, the only fleece you have to lay before God is your pastor's opinion. No worries with your job, your income, etc. That's a huge burden off you! There needs to be more excited Apostolic young people helping to start and grow churches.
Global Missions is in need of help just as much as North American Missions churches in the states. Right now, there is an AIMer (helpamissionary.com) who lives in Scotland, but the company for whom he works is in Canada. Does he just have a long commute to work every day? NO! He's a coder. So he's able to work in God's kingdom on a beautiful island in the Atlantic and still get paid enough for his family to live! Want to be an AIMer? Learning to code can help.
How to start learning
So, how do you start learning? The easiest answer is to just start. Don't take any excuses for why you don't have enough information, resources, connections, time, or…you get the point. You just have to desire to learn it enough! The main requirement is incredible determination to succeed. Once you have that, here are some next steps:
Decide what you want to learn how to do.
Do you want to write iPhone apps? Make websites? Build databases? Everyone has things they like to do, and it's very likely that what you start learning will be different than what ends up being your favorite. Here are some applications (apps for phones or your computer):
C, C++, Objective C, Java
Front end (the part of websites you see and interact with): HTML, CSS, Javascript
Back end (the part that does the work): Ruby, PHP, Python
Database (the part your Facebook status is actually saved on): MYSQL, MongoDB
Start learning
There are a great number of resources from which you can learn code. Some schools have courses, but the very best plan is for you to learn yourself. Here are a few websites that can help you learn:
Hopefully these will help in your quest to become an awesome programmer. And hopefully, if nothing else, you can learn this lesson from Flappy Bird—programming can be an awesome way to impact people.
Are you already an awesome Apostolic programmer? I want to meet you! Email me at Ryan@logosidentity.com
Ryan O'Neil is Pastor of Apostolic St. Louis Church and is a Bible Quizzing fanatic. He is married to Rachael, the love of his life, with two little boys: Oliver and Jude.