Apostolic Music Review: A Sound for God's House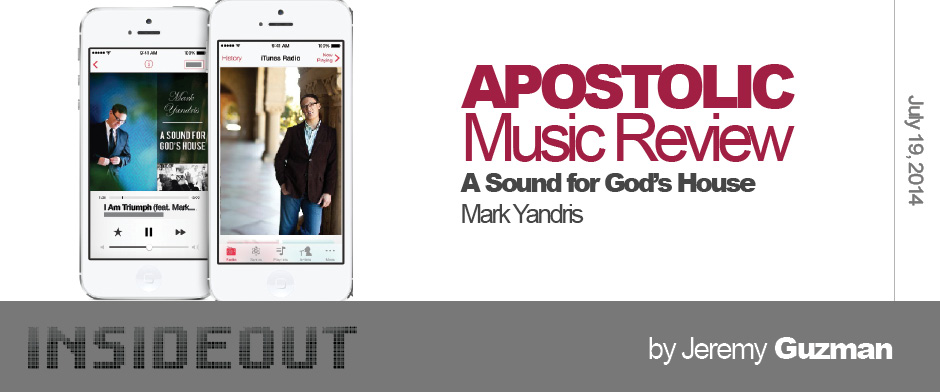 Album: A Sound for God's House
Artist: Mark Yandris
The first song, Arise, starts the album off with a high energy call to praise. This one will make you want to get up and shout! For the bass players out there, you'll love the bridge.
I can already hear He's An Awesome God being sung as a chorus by churches everywhere. Its another lively declaration of the power of God.
The next song begins with incredible instrumentation, sure to make you say "Wow!" Mark reminds us there is power, freedom, joy, and victory when we Praise Him In The Dance.
Thankful For The Blood slows things down and is a beautiful reminder of how Jesus gave His life for us. He "took the pain, all my shame; now I'm free." This song really connected with me.
I Am Triumph is musically done in traditional black gospel style. The verse tells the story of saints before us who overcame trials and tells us that with God, all things are possible. If you are facing obstacles right now and need encouragement, pray with this song playing.
He Lives is a classic song that goes through Jesus living, dying, and raising back to life. It goes into a "shout" toward the end that had me wanting to clap and "Praise Him In The Dance!"
"In awe of Your majesty, I stand before Your royalty, there I'll praise the royal diadem, singing Holy Lamb of God." There is excellent writing in this song and beautiful musical dynamics.
Waves of Glory is powerful song that sings about God's presence sweeping over our souls. So many of these songs would be great for your church choir, but especially this one.
We've Come This Far By Faith is an old song Mark re-did marvelously! It's an upbeat rendition with plenty of "gospel runs" in the music. You'll be encouraged to trust and lean on Jesus.
He Looked Beyond My Faults is another vintage song Mark rearranged into a very jazzy and refreshing version.
That Matchless Name is a great praise and worship chorus that sings "Holy, holy, holy is Thy name." Anytime you sing about the marvelous name of Jesus, you can be sure His Spirit will surround you.
The Pool of Shalom compels you to step into the healing water that is found in the presence of God, and when you "take up your bed of affliction, you'll never be the same."
Every Time sounds like a good song with which to open church services! It's got that "clap your hands" groove, and the lyric invites God's power to come down as we lift Him up.
Next to last is Jesus, What a Wonder. With every key change, this great chorus provides a lyric change to "Beautiful rose of Sharon," "Lion of the tribe of Judah", "Healer of the broken-hearted", "Born in the lowly manger," "Died, but He rose on the third day."
Lastly, we come to There is a River. This is a great ending song because it leaves us with thanksgiving on our hearts and a reminder to rejoice in the Lord always and be glad.
If you love gospel music, you will very much enjoy this album. It has the vintage sound of that style without sounded outdated. Mark wrote "Arise," "Awesome God," "Praise Him In the Dance," "Thankful For The Blood," "Triumphant," "Waves of Glory," "That Matchless Name," "Pool of Shalom," "He Lives," "Holy Lamb of God," and part of "Jesus, What a Wonder."
To purchase this album, please visit iTunes. For more information about Mark Yandris, you can visit his website at markyandris.com.
About the Artist
Mark Yandris served as minister of music at Apostolic Tabernacle UPC in Merced, California for thirty years. He was appointed by his father, the late Elder Bill Yandris, as a young teenager who founded and pastored the church for forty-seven years. He resides in Mountain House, California and is a member of–and bases from–Apostolic Tabernacle under the leadership of Pastor Sam Emory.
Mark attended the Jackson College of Ministries in Jackson, Mississippi where he majored in Church Music. At age fifteen, he started his first choir, The Apostolic Tabernacle Choir. Under his leadership, the choir developed a reputation of excellence and is known for its anointed singing and worship. They have sung at many conferences, campmeetings, churches, and concerts throughout California and have opened for notable gospel artists such as Tye Tribbett, Kurt Carr, and the Hawkins. He has played for recording artists Vicki Yohe, Vonnie Lopez, The Pentecostals of Alexandria, Kurt Carr, and for conferences such as Because of the Times. He has written songs for The Pentecostals of Alexandria, The Louisiana All State Youth Choir, and several other artists. He has conducted workshops at many churches across the country and has been a featured clinician at regional and national music conferences.
After serving faithfully at his home church the past thirty years, Mark now travels throughout the nation conducting workshops, concerts, vocal training seminars as well as ministering the Word. His passion is vocally training voices to sing in excellence and leading God's people into His presence.