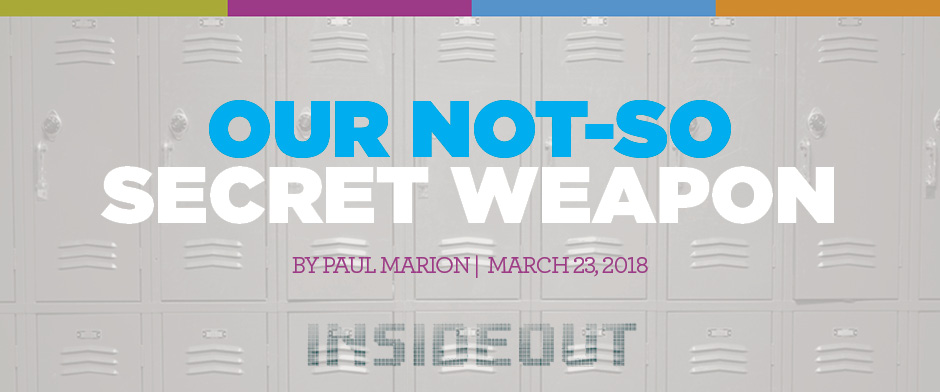 This summer will mark the fifth anniversary since Project 7 (P7) Bible clubs were announced at North American Youth Congress. An announcement that punched the devil square on the nose and cracked the foundation of the stronghold he had over the public school system across North America. Since P7 clubs were announced, thousands of Bible studies have been taught throughout our schools, and hundreds have encountered and experienced the Acts 2:38 message.
I personally believe P7 clubs are one of the greatest ministries to come out of the United Pentecostal Church International. As a sixteen year-old first generation Pentecostal bus kid, I would have given anything for a resource like p7clubs.com to help me teach Bible studies at my high school. I had no idea how to create a Bible study, but p7clubs.com would have had Bible studies ready for me to teach. I did not know how to teach a Bible study, but p7clubs.com would have showed me how. I would not have known how to find students to attend my club or how to find a teacher to sponsor it, but p7clubs.com could have showed me the way. I did not know how to present this ministry to my extremely secular school administration, but p7clubs.com could have helped me with such a process.
The p7clubs.com site is an absolutely incredible resource that encourages young people to teach Bible studies in their local school and equips them with the ability to express and evangelize the name of Jesus Christ!
Every Apostolic young person has the ability to start and maintain a P7 club at their school. Whatever excuse you may have for not starting a club will get eradicated as soon as you check out p7clubs.com. Are you afraid your school administrator will reject your club? Well, p7clubs.com has a resource for that, too! It's called the Equal Access Act and the Free Exercise Clause. These give you the right as a student to express your religious faith at school. Not only does it give you rights, but it also protects the right for you to start a student-led Bible club on your campus.
Emily, one of our middle school students in our youth group, wanted to start a P7 club. She had classmates ready to be a part and a teacher to sponsor the club, but when she went to the principal for final approval, he said no! He didn't want her club to offend other students of other faiths. She was devastated. After sharing with me her unfortunate circumstance, I quickly took her to p7clubs.com and showed her the rights she has as a student. We printed the documents from the website and the very next day she showed her principal the printed documents. Guess what? The next week she had her first P7 club with six students in attendance! Nothing can stop us from teaching the Word of God in our schools.
I have heard many students express their fear of rejection from school administrators and fear of rejection from fellow classmates. Fortunately for us, the Word of God responds to such fear when it says "So do not fear, for I am with you; do not be dismayed, for I am your God. I will strengthen you and help you; I will uphold you with my righteous right hand" (Isaiah 41:10, NIV). This scripture very much applies to us today because when you walk into that school administrator's office to request to start a Bible club, or when you invite that classmate in the cafeteria to attend a club meeting after school, God is with you.
He will guide and direct you and He will give you the words to speak. He is with you in the principal's office, the classroom, and the cafeteria. He is with you at every P7 club meeting. Let him take control and watch revival manifest before your very eyes. The time is now. I believe in you!

Paul Marion is a licensed counselor and has served as the full time student pastor at The Sanctuary in Hazelwood, Missouri. He also serves as the section one youth director and Project 7 coordinator for the Missouri District. He has been married to his best friend Jill for eight years and is the proud father of Aryelle and Lincoln. He is a die-hard Toronto Raptor fan who strongly believes Batman will always take Superman in a fight.