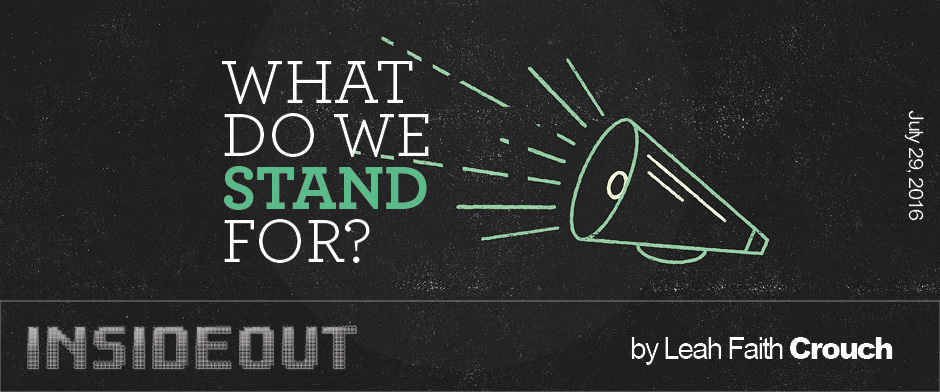 What do we stand for?
Happiness or holiness?
What has a hold of us?
Sin or salvation?
The world says It is our right to be happy.
God says it is our responsibility to be holy.
The world says if it's making us happy,
Then it's good for us.
God says if it's driving us away from Him,
It is toxic to us.
The world says, "Don't lose who you are."
God says, "Don't forget whose you are."
Sin may seem appealing, but it leaves us empty and dry.
God is the well of living water.
He wants to give us everlasting life,
But we need to thirst after righteousness
Instead of relationships.
Why don't we try to stop being self-absorbed
And become absorbed by His Word?
Because happiness never trumps holiness,
And in the end, oblivion will be no excuse.
Our generation's indifference is a "reality" I will not accept.
We are the generation of God's holy revival.
It is our time to rise up and stand out!
It is not time to allow ourselves to be lulled to sleep
With messages of compromise and comfort.
It is time to stop allowing worldly spirits
To overthrow the Holy Spirit.
If we choose to stand for nothing, we will fall for everything.
What might we fall for?
Idolatry, witchcraft, lust, homosexuality.
Many backwards things are prevalent today.
The volume of these messages are loud,
Attempting to drown out the sound of God's still small voice.
But our resolve has to be strong and unwavering.
In this world that is so confused, as time passes,
It only becomes more so.
Wrong has become so normal that right is no longer acceptable.
Will we be acceptable?
As the coming of the Lord approaches,
More and more of who we are will become socially unacceptable.
It's our generation's time to rise up and stand out!
The enemy seeks to infiltrate our homes and our churches.
We see it, and we must not allow it.
The time for passive confrontation has come and gone.
It is time to fight!
Fight for our family, for our friends, for our cities,
And for ourselves.
If we do, if we don't,
If we will, or we won't,
It is time to decide.
What will we stand for?
Leah is a teenage student who attends Bible World Church in Chesapeake, Virginia. Jack Cunningham is her pastor.